Introduced with version 1.8 of CarStory Insights, the Insights Price Explorer enables dealers to see the entire spectrum of possible price changes, and the resulting consumer demand and vehicle turn rate. This update to the app also includes new alerting functionality, and a number of other new features detailed below.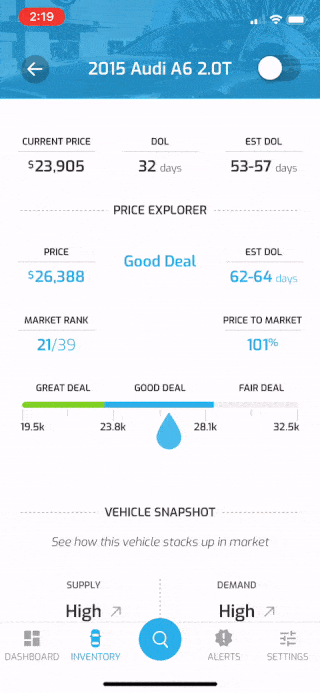 Price Explorer
The Price Explorer is available when viewing the details of any VIN from the 'My Inventory' view. With the CarStory Price Explorer, you can understand how changes in price impact days on lot, vehicle rank (compared to local competition), and CarStory deal badges at different price points.
New Alerts
Now you can choose to receive push notifications when a major market shift is detected in your area. CarStory Insights monitors all nearby inventory, and measures consumer demand, enabling predictive alerts to help keep you one step ahead of your competition. These alerts call your attention to specific vehicles on your lot that may need pricing changes or updates. 
We've also packed a number of design improvements into this app update, including a new way to view your lot's inventory. We've grouped vehicles by age, and provided new sort and filter tools to easily navigate inventory.