Overview
This update to CarStory Insights provides sales predictions for every vehicle on your lot - vehicles selling too fast, too slow, and those that are on target. Customize your target DOL and start optimizing turn!
After updating the app, tap Settings to customize your lot parameters. Set the slider for 'Target Days on Lot' to represent the thresholds when classifying a vehicle as Fast or Slow selling.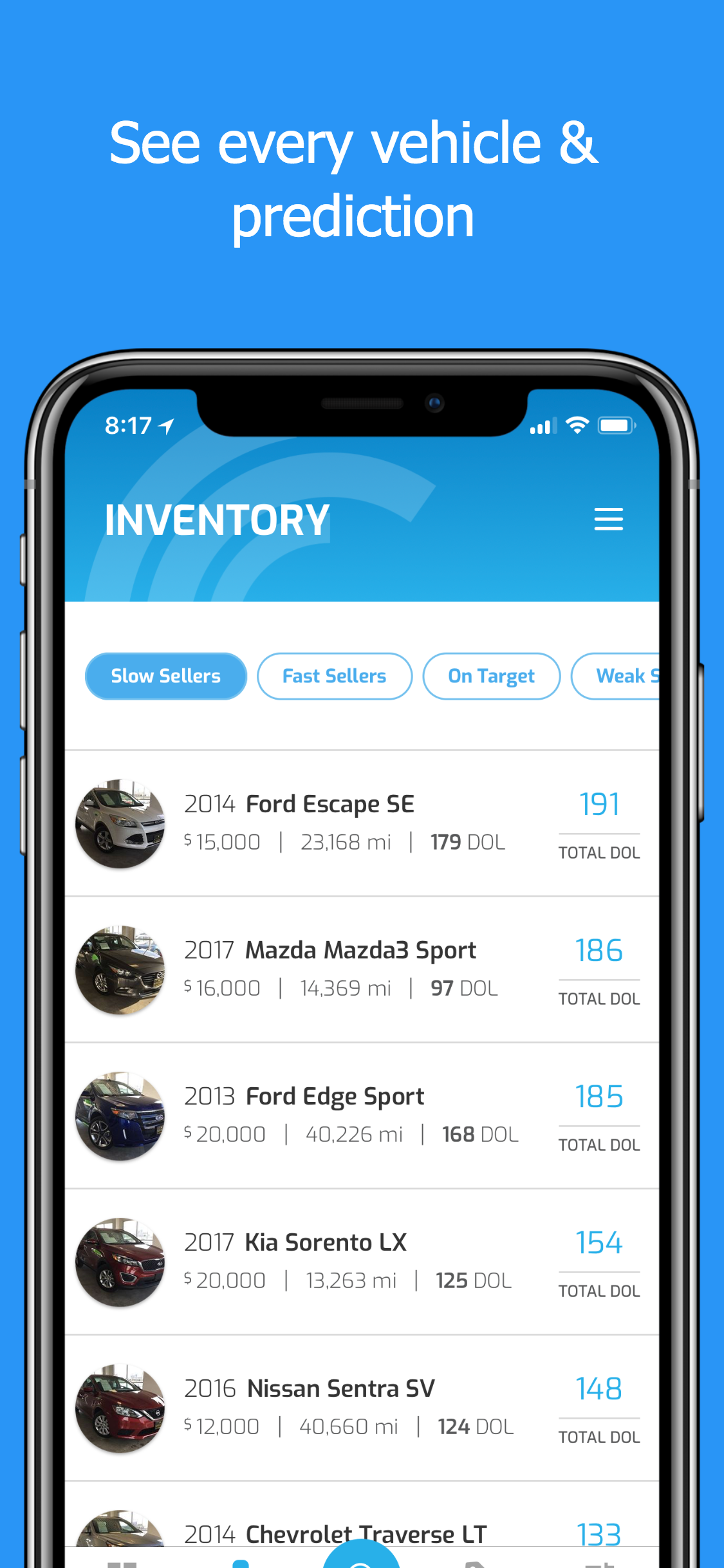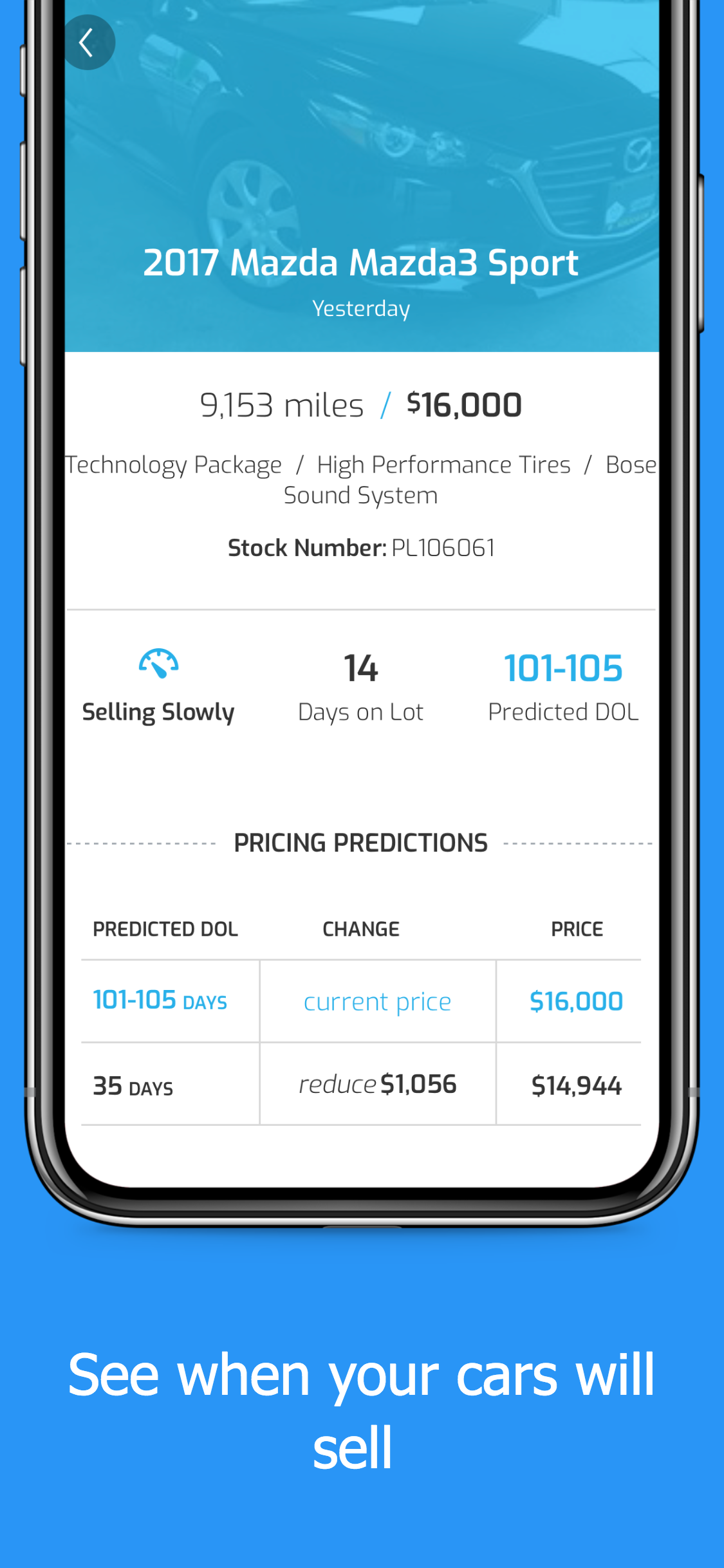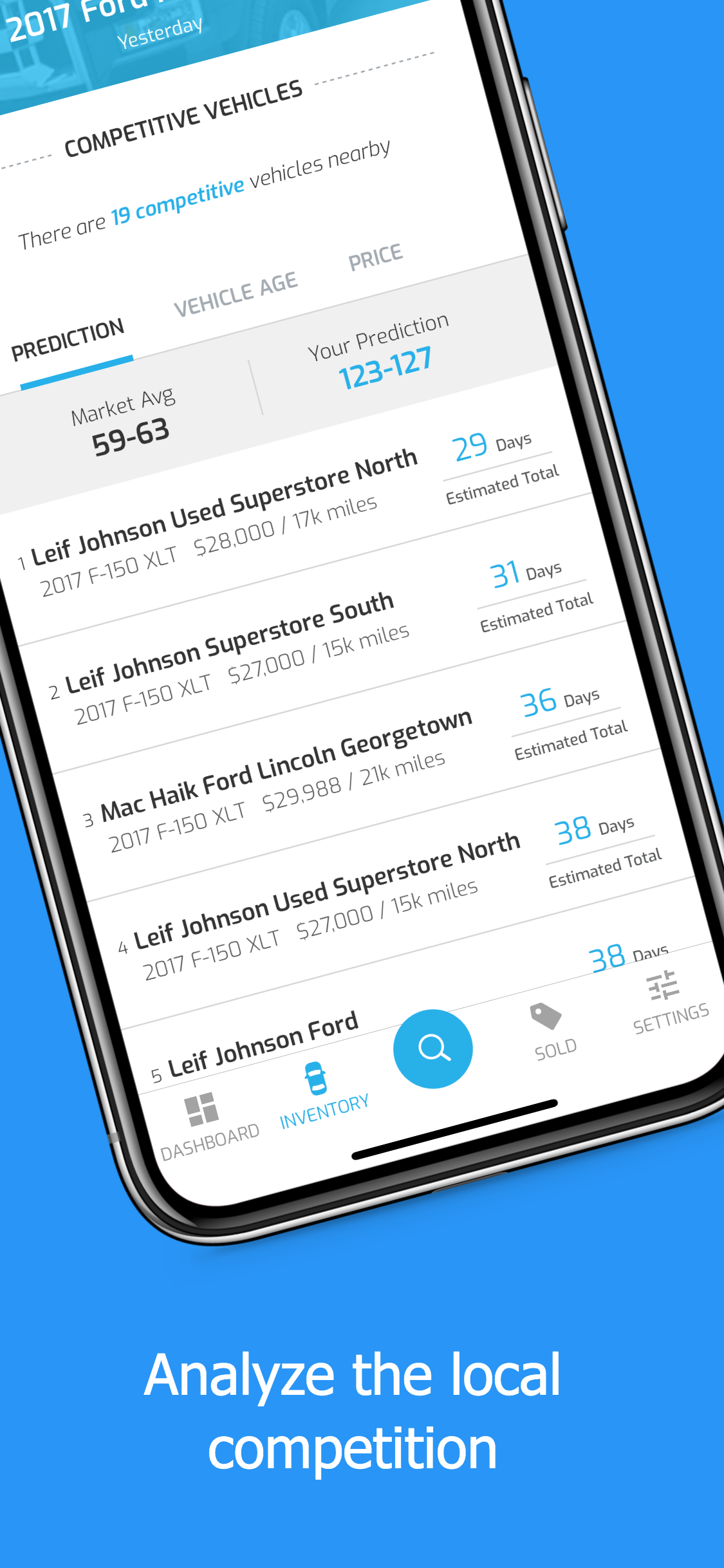 Tap below to download CarStory Insights from the iOS or Android App Store:
---
New Features of CarStory Insights v1.5: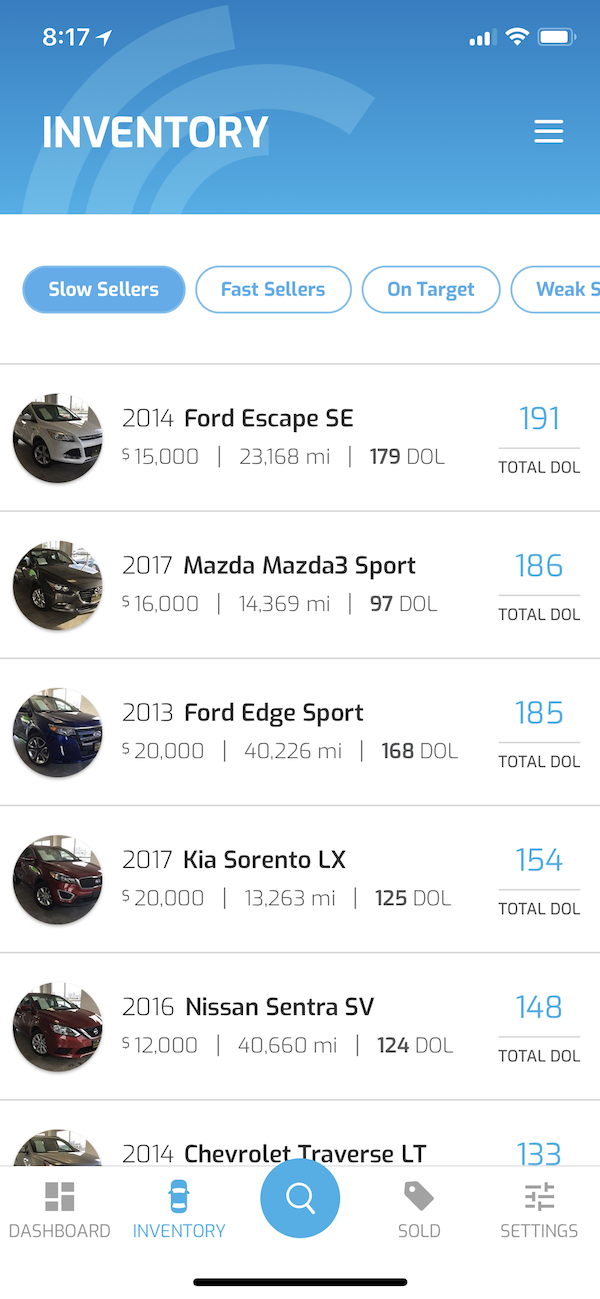 Predictions for ALL Inventory
We've introduced a new "My Inventory" view which categorizes each VIN in your Inventory Feed as one of the following:
Slow Seller - vehicles predicted to sell beyond your Ideal Turn Rate
Fast Seller - vehicles predicted to sell faster than your Ideal Turn Rate
On Target - vehicles predicted to sell within the range set for Ideal Turn
Weak Signal - vehicles that we weren't able to generate a sales prediction for, typically caused by missing data such as price or mileage
---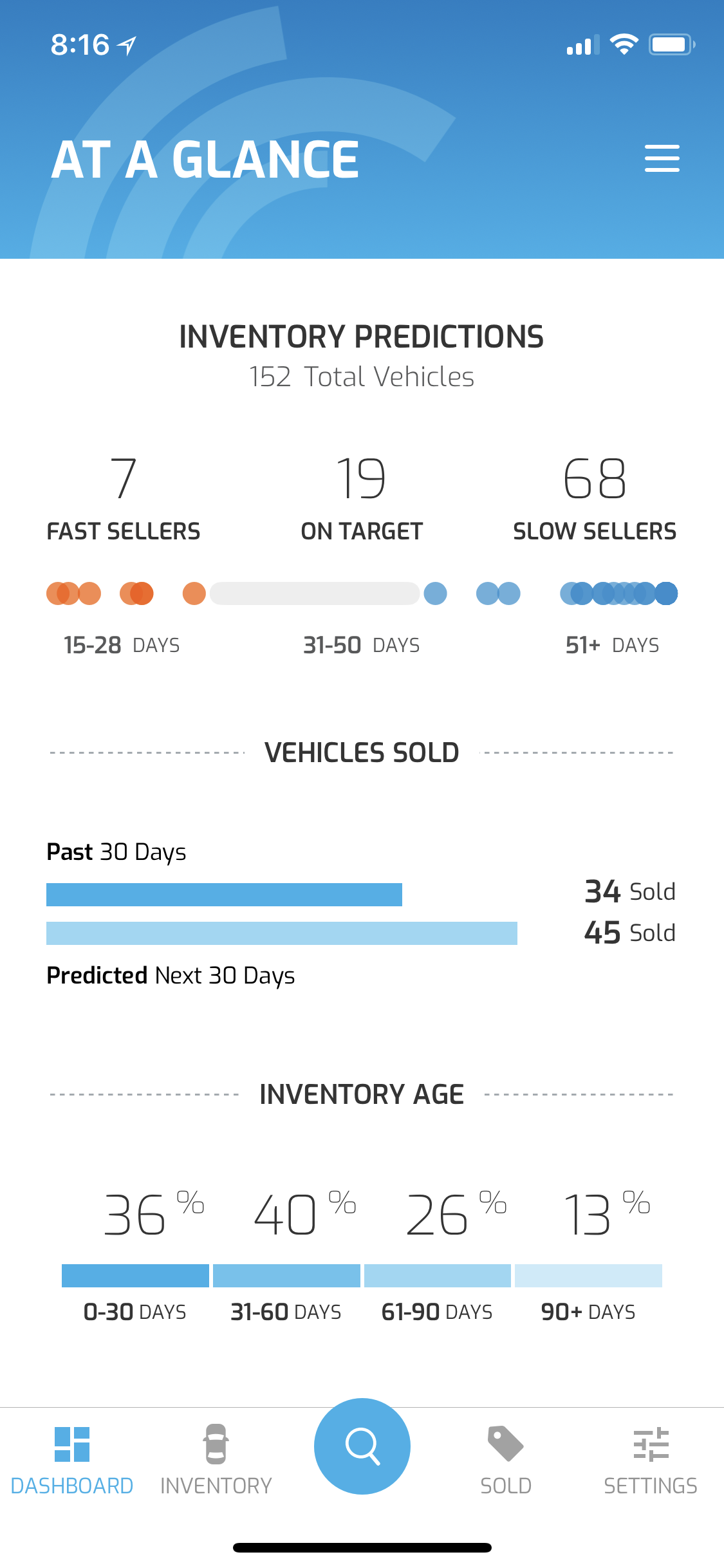 At a Glance View
The new Dashboard view provides a snapshot of your performance in terms of turn rate. The graphic at the top is a visual representation of Fast, Slow, and On Target vehicles. 
The "Vehicles Sold" bar graph shows how many vehicles CarStory predicts will sell in the next 30 days, compared to the previous 30 days. The predictions are based on the price recommendations provided by Insights for each vehicle.
To view a vehicle's price recommendation, find it in the My Inventory view (or search for it) and tap to view its detail page. 
At the bottom of the Dashboard, you'll find a breakdown of your current active inventory by age. These buckets are updated in real time and represent every VIN for sale at your dealership. 
---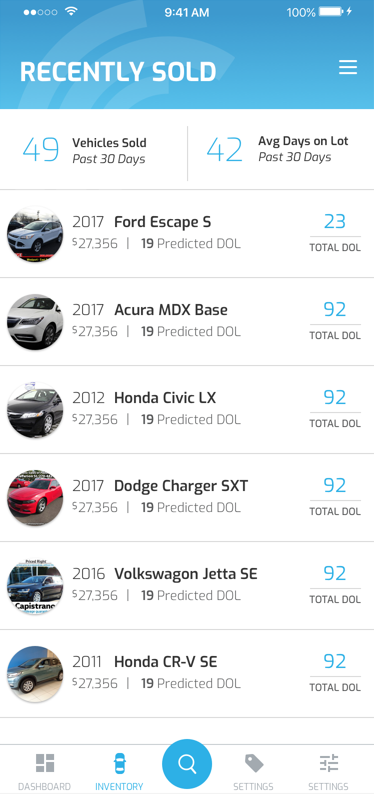 Recently Sold Vehicles
CarStory Insights automatically determines when vehicles are sold based on their presence in your inventory feed.
When you remove a vehicle as an active listing from your feed, we move that VIN into the Sold Vehicles view. 
---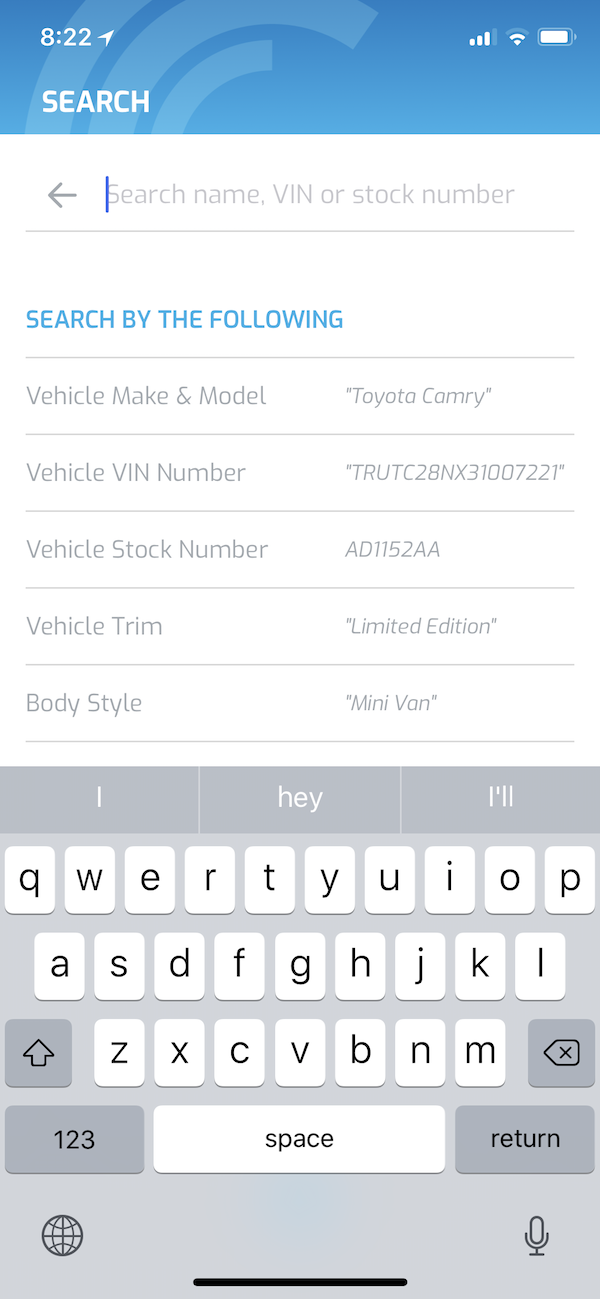 VIN/Vehicle Search
Now you can search for a specific vehicle (by VIN, Year, Make, Model, Stock #, and more) by tapping the blue search icon in the center of the navigation bar.
CarStory Insights will remember which vehicles you've searched for and save them in the Recent Searches portion of the Search view.
It's now easier than ever to find a piece of inventory and view the sales prediction and market activity data. 
---
Sales Prediction Details
Tap on a car from My Inventory to view its sales prediction and market comparison details.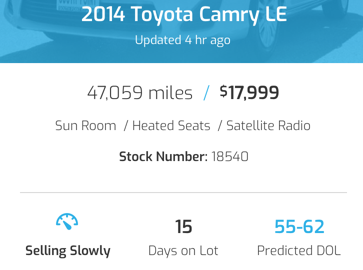 Sales Prediction
The top of this page shows an overview of the vehicle:
Mileage
Price
Stock #
Current Age (DOL)
Predicted Days on Lot
Sales Prediction:

Fast Seller
Slow Seller
On Target
Weak Signal (Prediction unavailable)  
---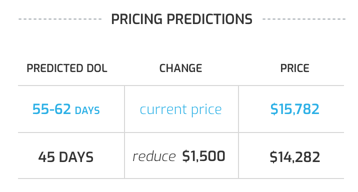 Pricing Prediction
The Pricing Predictions table contains the Insights price recommendation to reach your custom "target DOL" range.
This recommendation is the price we predict will most likely result in a sale within your target range.
If the vehicle has already past your target DOL, the Insights recommendation aims to cut the remaining days in half.
The example above is for a vehicle that is predicted to sell in 55-62 days. This dealer's target days on lot is 45 days - the Insights recommendation is the price prediction to sell in 45 days. 
---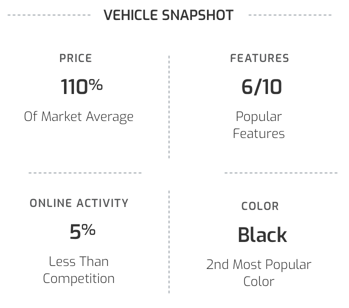 Vehicle Snapshot
The vehicle snapshot section of the vehicle detail view shows 4 core market metrics for the vehicle:
% of Market Average Price
Feature and Equipment Score
Online Activity and Engagement
Exterior Color Popularity
---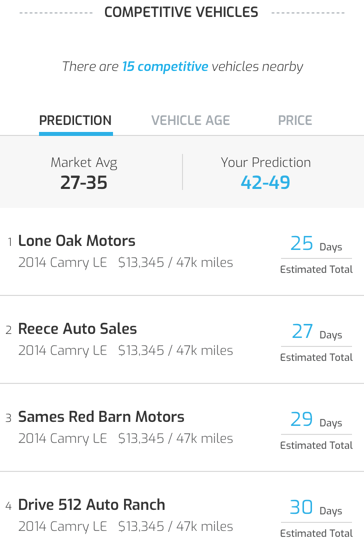 Competitive Vehicles
The last section of the vehicle detail page provides nearby vehicles that are competing with you.
The competitive vehicles can be viewed 3 different ways, each comparing you to your local market average:
Sales Prediction
Vehicle Age
Listing Price
---
Try the Insights App Today
If you don't already have login credentials for Insights, sign up today to start a 30-day free trial. Once you sign up, we'll need 24-48 hours to process and onboard your inventory feed. We'll follow up via email when your account is ready to use. 
Need help?
Check out the Getting Started guide for step-by-step instructions
Get in touch with CarStory Support using this form